the cloud
The web has become a integral part of any business, from web sites to web applications to backup, the web offers a lot to a business in terms of communications and security.
online bAckup
the problem
Your business data will be growing rapidly each year, and it's essential to have access to that information for the business to run. Unfortunately, Data loss happens!
Hard drives crash, and accidental file deletion can occur at any time and put your company's future in danger. Studies show that 93% of all companies that suffer significant data loss close down within 5 years.
Traditional backups can be expensive and they rely on human action to work which is often ineffective.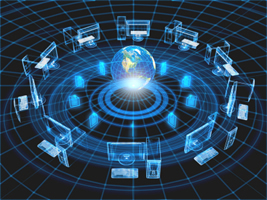 The Solution
Cadnets' new online backup solution can give you the peace of mind you need!
Cadnet offer an inexpensive full online backup solution, fully managed and secure.
Automatic
The human element has always in the past been the biggest contributing factor to a failed backup when its need most.
With this solution there is need to remember to change tapes or drives and no need to remember to take them off site!
This backup goes offsite securely with no human effort required at all.
Fast
If the size of your initial backup is large then we will send you an external Hard Drive, backup your system and then collect the drive to add your files to our servers.
So no painfully slow initial uploads.
Once the backup has started only the changes made to a file are backed up keeping the backup fast and efficient without using much of your internet bandwidth.
Secure
All data is encrypted before transmission and stored encrypted, so you can be certain that your data is safe.
Versatile
Our backup solution can backup, data, workstations or servers equally well:
Open files are supported so you are covered even if you leave your file open
Microsoft Exchange Server is fully supported
Microsoft SQL Server is fully supported
A clean user interface, keeping usability at the forefront of any design.
Microsoft SharePoint Server is fully supported
More space can easily be made available if your backup grows
Affordable
Traditional web backup solution can be expensive the more you backup, and when you introduce a server to the equation prices rise rapidly.
We recognize that you need an inexpensive solution to protect one of your most valuable resources, your data and your systems.
Managed
Cadnet will install, create and manage your backup solution behind the scenes to make sure that you are covered at all times.
We take away the worry of whether you have an up to date backup of your mission critical data.
What's included
Standard Features
Fully Automated Online Backup
Up to 1Tb Data Storage as standard
Bit Level File Backup
Encrypted transmission and storage
Initial Physical Backup
Managed Service
Options
Bare metal system restore Option (with restore to Virtual Machine)
Additional Storage Space Options